Dates: June 5 thru October 15
Glacier Tours. Take a scenic float plane ride and see the Glaciers. Have a chance to see Moose, Mt. Goat, Dall Sheep and Bears!
3 person minimum. Up to 6 people. (Weight restrictions apply)
1 Hour Flight: 2 People – $235/person. 3-4 People – $175/person
1½ Hour Flight: 2 People – $350/person. 3-4 People – $250/person
Dates: June 15 thru September 20
Bear Viewing Tour. Fly from Wasilla, Alaska down the West side of Cook Inlet with views of the Alaska Range along the way. Bear viewing (Black and/or Brown Bears) will be with our guide from an ATV or foot. 
Duration: 8 hours. Approximately 3½ hours flying and 4½ hours viewing. (Lunch included)
$895.00 per person. 3 person minimum up to 7 people. (Weight restrictions apply)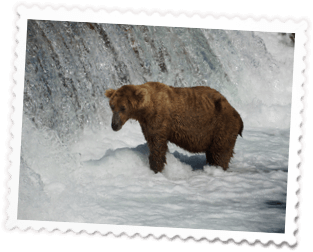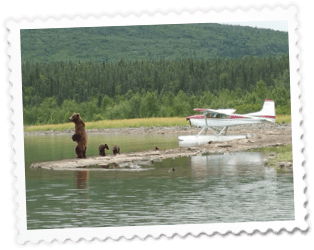 Fly in and Guided Day Fishing
Your plane pilot/guide will be with you for the day. Guided trips include spinning rods, tackle, hip boots and a shore lunch. Fly fisherman please bring your preferred gear. (Fishing License not included)
$595.00 per person. 3 person minimum. Up to 6 people. (Weight restrictions apply)
Charters and Backcountry Access
Airventures Alaska air taxi service can take you where you want to go. Rates vary with destination, so please contact us for a estimate.
Private Cabins
 Airventures Alaska offers pick-up or drop-off services, as well as freight hauls to many private cabins in south-central Alaska. Contact us for an estimate.
Public Use Cabins
The National Park Service and the U.S. Forest Service offer recreational cabins for use by the public in south-central Alaska. All these facilities require reservations and permits for their use. Contact us for an estimate to fly-in cabins that are floatplane accessible.
Fly-in Hiking Charters
We work with our clients to create custom trips that will fit your budget and timeframe. Contact us for ideas and an estimate.