Katmai National Park Bear Viewing
Brown bear viewing at the "World-Famous" Brooks Falls in Katmai National Park, Southwest, Alaska, allows you to view and photograph bears catching salmon atop a waterfall in a national environment. This trip will definitely be at the top of your trip list for years to come. 
Alaska Brown Bear Tour at Brooks Falls in Katmai National Park
The adventure begins at our lakeside location on Lake Hood, Anchorage, Alaska. You will board  one of our aircraft and head Southwest over the Cook Inlet. Your route of flight is weather dependent. Either direct or thru one of the scenic mountain passes. Flight time varies between 2.5 to 3 hours each way.
This scenic flight takes you by active volcanoes, glaciers and salmon streams on your way to Katmai National Park. Spot for moose, bears and other wildlife along the way.
After landing at Brooks Falls in Katmai National Park, a 15-minute bear orientation is required prior to your short hike to the viewing platforms.  From the platforms you will be able to get photos and videos that will last a lifetime. After you spend a few hours bear viewing, a box lunch will be served and then it is back to photograph more bears in action.
Please Contact Us to book your bear viewing tour of Katmail National Park.
Katmai National Park Bear Viewing Details
Trip Duration: 10 to 12 Hours
Cost: $995.00 per person
Dates: July 1st – July 31st
Destination: Brooks Lake or Naknek Lake
Seating: 3 – 4 Passengers per aircraft 
3 passenger minimun.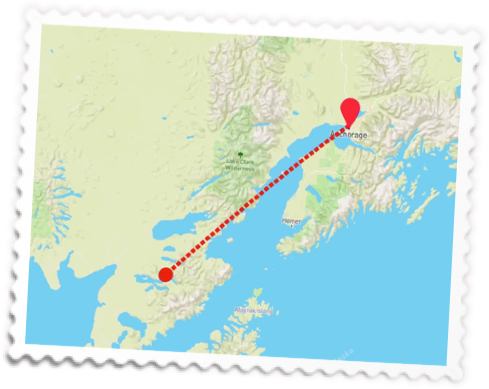 Katmai Bear Viewing Itinerary
Depart Anchorage    7:30 am
7:30 AM
Arrive at Katmai       10:30 am
10:45 AM
Bear Orientation        10:30 am
11:00 AM
Bear Viewing             10:45 am 
11:00 AM
Lunch                          12:30 am
12:30 PM
Bear Viewing             1:00pm 
12:45 PM
Depart Katmai             3:30 pm
2:30 PM
Arrive Anchorage       6:30 to 8:00pm
5:45 PM
What to Bring and Wear:

•Comfortable Shoes – These do not have to be hiking shoes, but no open toed sandals.
•Camera
•Binoculars
•Layered Clothing – Always be ready for any temperature range, bring a rain shell in case of rain
Brooks Falls in Katmai National Park Bear Viewing Peak Times
July 1st – July 31st (peak) & Sept. 1 – Sept. 30th (depending on the salmon runs)
•Male Brown Bears weigh 300 – 850 lbs
•Female Brown Bears weigh 200 – 400 lbs
•Bears usually live 20 – 25 years
•Brown Bears can run up to 35 mp